How Sacramento's Sol Collective built a sustainable arts activism organization
The work of Springboard for the Arts is rooted in arts-based economic and community development. We believe artists are critical assets in that work, and support them by offering a variety of resources that enable them to make both a living and a life. This is why Springboard is a member of the New Economy Coalition (NEC): because we believe in the vision of a new economy, one that is just, sustainable, and democratic; one that is ethical and community-rooted; and one that does not rely on the exploitation of disenfranchised communities in order to thrive. This is the first in a series of stories highlighting the work of other arts-based NEC member organizations and affiliated organizations that have developed ways to sustain themselves while also sustaining artists, demonstrating that, yes, a new economy is possible. 
Sol Collective in Sacramento started 12 years ago in response to a local need for representation around arts and culture and having a space to house the social justice work that was happening in the area. "Art, culture, and activism" became the fledgling organization's tagline and focus.
Executive Director Estella Sanchez is one of the founders of Sol Collective, and explains that it initially started with a group of educators, artists, and musicians who together had a vision of bringing something to the city that did not exist at that time.

"We started to gauge our resources as a collective," she remembers. "I was able to rent the space and others had equipment, skills, and other resources they could offer, so we kind of pieced together this collective space through community resources."
She says they didn't know how it would play out in the long term or even past the first year or two, but 12 years later the organization has grown to encompass a wide variety of community-led programming and activist projects.
There are yoga classes and a traditional health series featuring healers and wellness practitioners from different cultural backgrounds teaching healing and wellness techniques of those cultures, cultures that many community members might share but might also be disconnected from.
There is the Sac Activist School, a weekly workshop series that offers political analysis and training for social justice activists. All of the weekly programming is developed by Sol's collective of community organizers who do work in areas like environmental justice issues, Black Lives Matter, education equity, and indigenous land rights.
There are art workshops as well as an art gallery and performance space that highlights the work of marginalized communities with a social justice element, not focused on selling the work, as is the case with other traditional galleries, but rather highlighting artists who might not otherwise be seen and educating the community in a creative way. The space also doubles as an all-ages music venue highlighting music not being seen or heard elsewhere in the community – including cultural music – while also providing a safe space for young people to gather and young musicians to hone their craft.
There is a recording studio which people from the community can use for recording music or podcasts and also learn how to use industry-standard recording and mixing equipment. Sol Collective members are available to help individuals and groups develop their podcasts (if they are in line with the organization's mission), put them online, and amplify their voices. The organization even produces its own "Sol Life" podcast network.
The Sol Collective Arts and Cultural Center is also home to a small storefront, the Global Local Mercado, which carries both global and local hand-made goods. The organization works with other community groups around the world to source hand-made items to sell, including one that represents 170 indigenous families in Oaxaca, Mexico and another that represents designers in India. Sanchez says the intention behind the store is two-fold.
"We want people to think about where their goods are coming from and be more intentional about how they spend their money, but we also want to make that connection between ourselves and the cultures a lot of us lost as children," she explains. "Many of us are children of immigrants who are far away from our home countries and we quickly forget the culture of our home countries. Clothing is a big part of that. We want to reintroduce young folks to the clothing of their cultures and create a sense of pride in the artistry and craftsmanship behind these textiles. People go shopping at Target, but instead of buying items from folks working in sweatshops, we want people to start valuing the beauty of the textiles and clothing from their home countries and support these different makers."
Sol Collective also creates large-scale art installations around the city. One project they developed is a traveling augmented reality exhibit that highlights different leaders from every cultural background that ties all of the Sacramento community together, showing how people from different cultures and ethnicities have worked together in this community throughout history. These stories are triggered when users view different local landmarks and sites of historic importance through their phones. Sanchez says Sol Collective does a lot of work with AR and likes to use it as a creative teaching tool.
Because the Collective has always had a focus on social justice, they also work on statewide campaigns dealing with policy issues.
"We're about a mile away from the state capitol building, so a lot of legislation happens just down the street," Sanchez says. "We're always trying to think about what type of impact might we have and we produce a lot of media around that. We're trying to understand for ourselves how systems are put into place and use media to break that down. We also try to come up with creative ways to educate ourselves and the public of how systems of change happen and how we can get new policies in place."

They are currently seeking proposals from California artists, media makers, students, activists, educators, organizations, and youth for #SchoolsNotPrisons DIY events. #SchoolsNotPrisons is a statewide campaign that will fund up to 15 community projects up to $5,000 each for projects that address systems of punishment, incarceration, and the prison system. They encourage anyone doing any kind of work around these issues to apply, and in order to encourage more people from nontraditional arts and activist backgrounds they have made the application process as easy and as streamlined as possible.
"We don't want people to get discouraged by having to write lengthy grants if they have a great idea," says Sanchez. "We're trying to make it really accessible to the average person who might have a really great idea." Applications are due by April 16, 2018 and more information is available here.
In addition to #SchoolsNotPrisons, Sol Collective is part of a collective of organizations working to set up a youth development fund through marijuana tax revenue, now that the state of California has implemented full legalization of medical and recreational marijuana use.
And if ALL of that added together seems like a lot…well, it is.
"That's all we do: arts, culture, and activism. It's a lot because we're a collective – we have an administrative team but a lot of the work is coming from the community and the overall collective of people," Sanchez explains.
Sol Collective as an organization might be best understood as a support system and resource hub for artists and community groups, and in order to function in that capacity they have learned how to do a lot with very little and how to monetize every aspect of what they offer, not just to the small community groups they serve but to larger organizations and for-profit businesses that pay to use their physical space, consulting services, and equipment.
"We really learned how to do this on a very low budget," says Sanchez. "We have the store. We have the space to rent on our sliding scale rental policy" – meaning groups that have more pay more, and smaller groups pay what they can. "Somehow it always evens out. There are people who will bring water or toilet paper or offer volunteer hours to use the space. We try to have our basic needs met through trade or barter. We started contracting out our sound system and staging to larger groups and institutes for their events. We invested in a commercial printer and have started making flyers for people. We rent our equipment and services out to people who can afford them, but community groups have always had a sliding scale for everything."
She says they didn't even know about grants until the organization was six years in, which forced them to look at different ways to sustain themselves. When the Collective launched, it started with 12 people committing a certain amount of money, whatever each could afford, every month in order to cover their overhead. They committed to doing this for one year to see how it went. Going into it, she says, she had no idea how to make it sustainable after a year.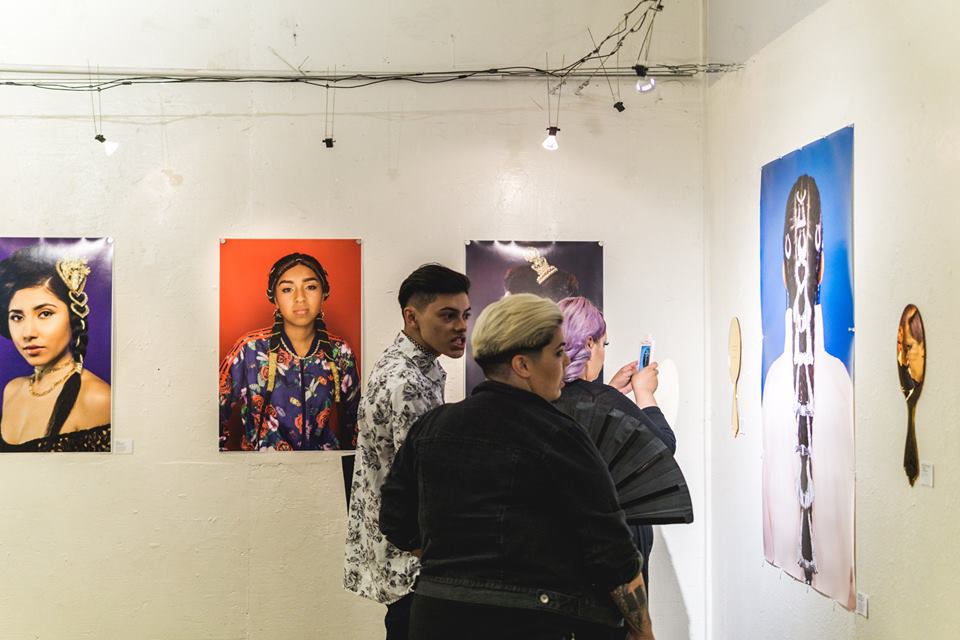 "My background is in education; I didn't know how to run a nonprofit or how they even work," she laughs. "But because I didn't have that knowledge of how nonprofits ran I had to figure out these other ways to make it sustainable, and I'm really glad we went that route."
Their current operating budget is around $400,000, the most they've had in these past 12 years, and even with that much people are often surprised by how comparatively low that number is and how much they are able to do so much with it.
"We really know how to stretch what we have," Sanchez states. "If we get a grant, I'm always thinking, 'If we get this piece of equipment, how else can we use it?' We really try to stretch those things. If we get money for banners, we use those banners in 20 different ways. We're very resourceful because that money was coming out of our own pockets those first years. I'm always really mindful of how those resources will be used and making sure they're useful for everyone."
Because of this, Sol Collective isn't dependent on grants and foundational support…and thus not at the mercy of the potential whims of federal arts funding.
"We started investing in equipment we can use in order to diversify our funding sources and not be dependent on grants," Sanchez explains. "Grants are super helpful and have allowed us to grow much bigger, but even if those things went away we would still be able to exist. As an organization we would have to scale down, but we would survive. I know how to manage the space without grant money coming in; that's money on top of what we need to meet our basic needs."
Full sustainability was just a dream for the first six years, she recalls. Sanchez herself had three different jobs within the organization to keep it moving forward, but now they are able to employ artists and have paid employees instead of contractors. Now they even own their own building.
"We – collectively, the team of us – made a lot of sacrifices to get to this point," she reflects. "As individuals we gave up collectively to support each other, but now it's sustainable and it's sustaining artists."