This story is supported by a National Endowment for the Arts Our Town Knowledge Building grant supporting a partnership between Springboard for the Arts and the International Downtown Association. See more stories from the partnership here.
"The Biggest Small Town"
O, almost-city I love you
around me
& you love me around.
I want to kiss you every day
like the shortest skyscraper
longs to kiss the lowest cloud
The rain has a way of quieting down any city. Slowing down its frenetic pace and drowning out the noise. Underneath the steady fall of raindrops, the sound of slicked tires and water flowing out of spouts and into drains takes over. Umbrellas snap open and pedestrians hunch over, eyes averted towards the ground. If you happen to be a pedestrian in Oklahoma City, you might just see poetry begin to appear before your eyes on the rain-soaked sidewalks.
Make It Rain Poems is an installation of twenty-four original "rain poems" spread over twenty-seven locations in the heart of Oklahoma City's downtown. Featuring poems such as Kathleen Rooney's "The Biggest Small Town," the poems, which remain invisible when dry, are the result of a creative placemaking project by Downtown Oklahoma City Inc, a not-for-profit organization advocating for downtown revitalization, and Short Order Poems, a local poetry group. Installed in April of this year, the project is an effort by Downtown Oklahoma Inc, to engage commuters and visitors to the city's downtown—above ground, rather than below it.
Since the 1930's, an unusual feature of downtown Oklahoma City has been its Underground, a series of underground tunnels spread over nearly a mile of its downtown. The tunnels, connecting 16 city blocks and over 30 buildings, form a major thoroughfare for most 9 to 5 commuters in the downtown area. The challenge, has been how to entice these same commuters above ground to explore the businesses and activities happening there. Make It Rain Poems is one innovative solution.
According to Staci Sanger, the nonprofit's Marketing Manager, "We wanted the project to bring to light to our commuters that there's a whole beautiful downtown. There is the opportunity to see incredible art and improve their quality of life during their business day. We also have a ton of visitors downtown on the weekends and wanted to provide a happy little surprise for them."
Sanger, an Oklahoma City native who describes the city as the, "friendliest place on earth," asserts there is a lot to be seen above ground. From a world class boat house district to the Myriad Botanical Garden to each of the downtown's eight character districts; from Bricktown to Automobile Alley. The nonprofit's initiative also comes at an opportune moment in the city's art scene.
"The local art community has been truly blossoming for the last 5-10 years. Even within the last two years, we've seen a drastic change in the environment for artists here," Sanger states.
When it came to creating Make It Rain Poems, Downtown Oklahoma Inc selected Short Order Poems (SOP), a poetry group that has been gaining popularity through their unconventional "poems on demand." Led by Timothy Bradford and Chad Reynolds, Short Order Poems has been churning out poems on typewriters at the popular downtown H&8th Night Market since 2014.
The concept is simple enough, visitors approach their table, offer some guidance on the kind of poem they would like written and within minutes they receive a one-of-a-kind typewritten poem. Defying the perception that the public doesn't read poetry, Bradford and Reynolds received an overwhelming response at the monthly market requiring them to bring in more poets to meet demand. Celebrating their third year this March, SOP has gained the kind of name recognition that made them a natural fit for the project. For Bradford, for whom SOP was born out of the need to "add something" to the local poetry scene, there is something magical about Make It Rain Poems.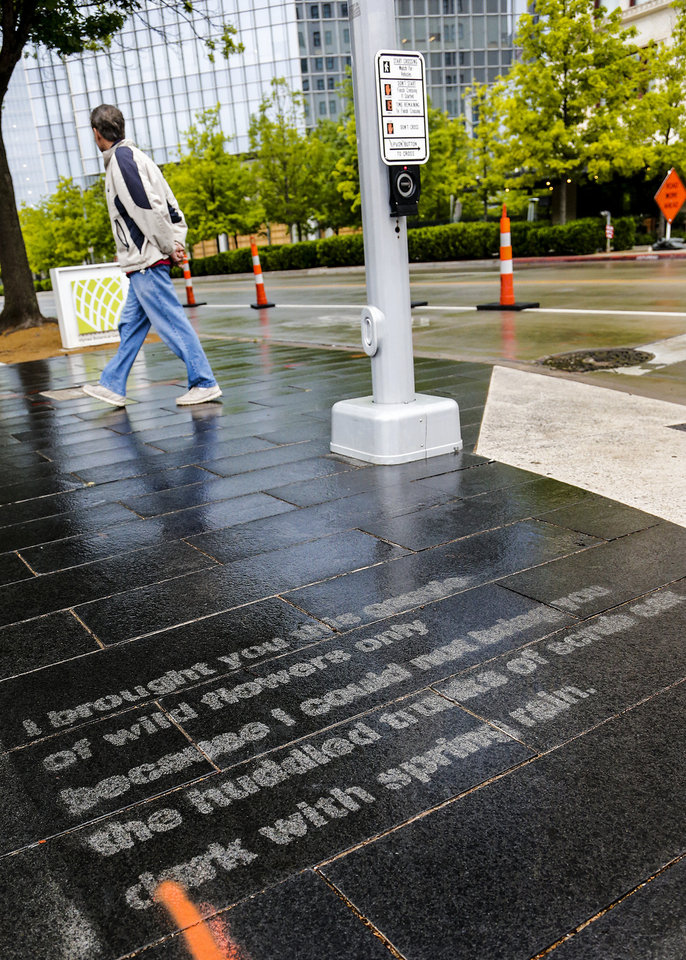 "We're completely into this notion of these poems appearing and disappearing with the weather. Then there's that temporary element that poetry speaks to. This momentary connection with words that speaks to the human condition."
To execute the project, Bradford and Reynolds began by submitting the idea to some of the best poets they have worked with, who include notable poets like Allison Hedge Coke. Awarded the 2016 Witter Bynner prize by the National Library of Congress, Hedge Coke, like the other poets featured in the project, has ties to Oklahoma. Once Bradford and Reynolds had their poets, the next step was determining what each poet would write. Past experience had taught them that people liked poems on topics they had suggested. For example, a poem on their favorite movie or their wife. Bradford and Reynolds brought that approach to the project and put out a social media open call for topics.
The public responded. Over 60 topics were suggested, ranging from soggy socks to The Flaming Lips to banjos and cumulonimbus clouds. Instead of picking the topics poets would write about, which Bradford and Reynolds felt removed choice, the duo drew topics out of a hat for each poet. Poets were then given a week to write their poems. For Downtown Oklahoma Inc, this is one of the areas where having Bradford and Reynolds as intermediaries between the business and the artistic side of the project came in handy. Aside from providing a few guidelines such as the length of the poem (not longer than four to five lines), Sanger and her team trusted the duo to guide the artistic process. "It was incredibly invaluable," Sanger says.
"They acted as project manager in a way, not just curatorially. Telling the artists what the requirements were and communicating guidelines with them. They really fielded a lot of questions in that way for us."
The symbiosis of their partnership meant that Downtown Oklahoma City Inc could focus on other aspects of what was turning out to be a one-of-a-kind public project for the city. Among the challenges they faced was a lack of existing permit guidelines for a project like theirs. There was also the issue of placement of the poems, which meant courting business and property owners alike and gauging their interest. After successfully securing the twenty-seven locations for installation, Downtown Oklahoma Inc worked with Robbi Kienzel, Arts & Cultural Liaison for the City of Oklahoma, to invent a new permitting process for the project. Through the City's Arts Commission, each poem and location was reviewed before they were issued a revocable permit green lighting the project.
Likewise, for Bradford and Reynolds, both published poets, the project came with its challenges. "Publishing" on a sidewalk being something that neither had experience with.
"For poetry, it's relatively simple," Bradford states, "You sit down and you write. What we weren't quite prepared for was thinking about how you cut a really big stencil efficiently or picking a font which looks good."
The project had the duo learning on the go. For instance, at a meeting with City officials, they were asked to ensure proper orientation of the poems. That is, that pedestrians would not be standing in the street to read any of the poems—something that Bradford and Reynolds had not thought about yet. In this way, the duo received a lot of other unforeseen technical assistance with the project: Stephen Saak, founder and owner of S & S Productions, a huge commercial printing and cutting company heard about the project and offered to machine cut the stencils for free; Rick Sennett, an Oklahoma based mural artist with extensive experience working with stencils offered input along the way; a lab tech in the Architecture Department, at Oklahoma State University (where Bradford works) talked them through substrates and stencil fonts. At each stage of the project, the duo found experts eager to help.
"We've learned a whole new skills set, one that most poets don't ever consider," Bradford states.
On a Thursday in late April, Downtown Oklahoma City Inc and SOP set out to install each poem using waterproof paint that will be reapplied every 6-8 weeks. The installation process took longer than they expected requiring the work be divided over three days. Because of the difficulty of launching project that requires rain to make it visible, there was no grand event around the installations. Two days after Make It Rain Poems were installed, a spring rain brought the poems out. With the rain, Downtown Oklahoma Inc went into high gear, encouraging people to find the poems which had a social media presence around the hashtag #MakeItRainPoems. The project has generated media interest for the artists and the project itself and solicited positive responses.
"We've gotten some amazing feedback on our social media," Stanger states. "Every post and hashtag has started its own conversation. We've even gotten emails saying how awesome it is and had pictures emailed to us."
Downtown Oklahoma Inc is in the process of planning some events around the poems which may include a social media scavenger hunt that would offer participants a chance to win gift cards to downtown locations. There is also talk of holding poetry readings at the poem sites. But for now, Downtown Oklahoma Inc is celebrating a successful project made possible through a series of community partnerships. The project as Bradford states is further proof that, "There's new stuff going in everyday in downtown Oklahoma City. It's an exciting time to be here."