Immersive Theatre in the Time of Coronavirus
By its very nature, immersive theatre doesn't lend itself well to social distancing. Immersive theatre has become increasingly popular in recent years, thanks to any number of factors—big production companies like Third Rail Projects and Punchdrunk getting international buzz; the artistic craving to create work that directly engages audiences and is designed for and responsive to its environment; the cultural craving for more unique, intimate experiences and all things experiential and Instagrammable; the natural and most logical evolution of experimental independent theatre.
Immersive theatre typically involves an extremely small audience—maybe 20 people or fewer—attending each performance, during which the cast of performers interacts directly with audience members. Attendees are encouraged to engage with the actors, to ask questions and learn more information about each character and their story, and how their stories fit into the narrative as a whole. Actors will typically "guide" the audience through the performance so that each audience member gets the full experience of the overarching story while his or her own unique, individualized experience—no two ever being alike.
Thus, actors and audience members are all in close proximity and the "staging" is a much more intimate setting—a living room or dinner party, perhaps. Actors often rely on touch to interact with and guide audience members through the performance—pointing out something of interest, drawing a person's attention to something they need to see, handing or showing them something of importance, physically leading them somewhere where a significant event is about to happen.
It's an incredibly unique and rewarding experience for theatre makers and enthusiasts alike, but the format doesn't easily translate in a socially distanced world. As live performing arts events throughout the country have cancelled active and planned productions largely for the remainder of 2020, it would seem like immersive theatre, perhaps even more so than many other performing arts, would be impossible to produce during this time.
Fortunately, theatre makers are accustomed to making the impossible happen.
Smaller production companies, the kind that tend to embrace immersive theatre (whether for its more experimental format, because independent theatre audiences might be more open to stepping outside their comfort zone to be active participants, or because immersive theatre is also, by its very nature and out of necessity, small), are much more easily able to pivot at a time like this. The challenges of reimagining or re-staging a large-scale Broadway production in a pandemic world have proven to be too much, but immersive theatre designed for just a handful of participants at a time? That can still be done!
In the last several months, many immersive theatre companies have pivoted to some sort of digital and/or "drive-through" immersive performance hybrid developed in response to social distancing mandates and public health concerns, developing a whole new kind of immersive experience born out of necessity. Some have managed to still coordinate live in-person performances—safely distanced, of course—while others have embraced our newly ubiquitous virtual connectivity by utilizing digital platforms in such a way that the technology itself is an integral part of the experience and the story being told.
Act I: The Nerve Tank, The Attendants
For the Nerve Tank, a bi-coastal theatre company based in both New York and Los Angeles, re-imagining their 2011 performance of The Attendants was quite a natural progression for the piece. Originally commissioned by Arts Brookfield and staged at Brookfield Place, a mixed-use office and retail development in New York, The Attendants involved two performers at a time confined within a Plexiglas cube, who could use only their bodies to communicate with "the outside." Audience members—largely passersby in the Brookfield Place shopping center who had no idea they were about to be a part of an interactive performance—could text and Tweet messages to the performers, which would be displayed on a digital screen overhead for everyone to see and the performers to respond to through movement.
Arts Brookfield also commissioned this reimagining, The Attendants 2020, as part of their "Brookfield Place at Home" campaign. The Plexiglas cube was replaced with a 2D rectangular screen—which we have all come to rely on now more than ever to communicate and connect with other people. Viewers once again communicated with the performers via text or Tweet, and the performers were only able to respond with their bodies as they streamed from the safety of their own homes. Performances were once again a mix of choreography and freestyle movement, although the audience never knew which section is which. Ten performers cycled through over the course of the six-hour performances.
Chance Muehleck and Melanie Armer, co-founders of the Nerve Tank, first developed The Attendants as a way to explore the kind of impact audience members can have on an event without it being directly participatory. The original incarnation questioned concepts of confinement, interactivity, and communication, with limitations placed on the methods of communication between the performers and the audience—the audience only through text, the performers only through bodies.
"We were trying to figure out what would it mean to create something in response to [the pandemic and the social isolation]," says Muehleck, "[then] Brookfield reached out and commissioned a reimagining of this 2011 piece, which proved to be the perfect thing at the perfect time. That's been a boon for all of us."
Armer agrees. "It has been such an incredible gift to have this project to work on during this crazy time when everybody's life has been so disrupted."
Conceptually, Muehleck explains, The Attendants has always been about confinement and interactivity, so updating it for 2020 was largely a matter of replacing the cube with the digital screen we're all so accustomed to—arguably even "prisoners" of, in a way—and figuring out what can be done in that space during this shared time between the audience and performers. "We're really sharing time with people. That's the core of what we're doing," he says.
"This is a whole new level of exploring the space," says Armer. "We wanted to address those questions again in this new reality where communication and confinement have a whole new intensity."
She says that one component of The Attendants 2020 is interrogating this new digital platform where performances are presented on screens instead of on stages, in turn interrogating what theatre actually is and what "live performance" actually means.
"If we're sharing time with each other, it's live, which is different than watching something on your own time," she says. "When you recreate 'live' on the digital platform, you lose the physical space of it. How do we navigate that instead of fight with it?"
Muehleck adds, "What does it mean to use the lens of the device and how does that change the relationships? We're all sequestered, so that speaks to some of the themes of the piece, too: How do we walk through this experience together, alone?"
There were still challenges in staging this performance, and they weren't the challenges Muehleck and Armer, a married couple who were themselves separated by 3,000 miles when the quarantines started, anticipated. For example, they had never before been in different cities during rehearsals, and while rehearsals could still be held over Zoom, the one thing that can't be recreated digitally is spontaneous one-on-one conversation.
"What we're really having to figure out is how to replace the casual conversations that come up before and after rehearsal, when a performer might come up to you and ask to have a private moment. That goes away with these digital platforms; you lose the idiosyncrasy of happenstance, and you find out how much of your process is connected to that," Armer explains.
Spontaneous conversations between audience members were also challenging to recreate, but were a key part of the viewing experience as well. They were able to recreate this "gallery gossip" through social media channels and chat rooms.

Act II: Capital W, What Do You Need
Capital W, based in Los Angeles, developed What Do You Need? in response to the pandemic shutdowns and the needs of human beings during that time of social distancing and, for many, social isolation.
"What defines our house style is a real focus on intimacy with our audience members," says co-founder and producer Monica Miklas. "There are some one-on-one and one-on-two shows with just 12 audience members. Emotional intimacy is really the hallmark of our work. We don't shy away from deep emotional storytelling, but we try to do that in a way that gives members and participants a big container to feel and process feelings and trauma and use their proximity to the story as a way to examine their own life as we do in our lives."
This kind of intimacy and proximity she refers to is, of course, a near-impossibility in a time of social distancing. As the quarantine started, Miklas and fellow co-founder Lauren Ludwig knew they wanted to use the skills they had developed as theatre makers and apply those to our current moment, delivering the same kind of emotional intimacy Capital W is known for creating—remotely.
"What Do You Need? really came out of our own needs as humans," says director and writer Ludwig. "We wanted to create spaces that were not narratively driven, because story and narrative didn't feel possible right now because everything is very much happening right now." Miklas describes this moment as an open wound that's still raw—we don't yet know how the edges will mend together or how the scar will heal; we just have to treat the wound as it is right now.
What Do You Need? is a series of four different experiences, each with their own unique styles of interaction with the audience. They all used technology to create a connection. "Look Out" was a one-on-one phone call with the performer as both performer and participant went on walks outside their respective homes and told each other stories about what they saw. The other three experiences all used Zoom, some with and some without video, and one also had live music.
At the time that What Do You Need? was running, people around the country were experiencing mass Zoom fatigue, so Miklas and Ludwig wanted to be sure that video was not the primary mode of connection.
"We didn't want to further exhaust people who were all so tired from the process of being on Zoom," Ludwig explains. Miklas adds, "All of these experiences had a really strong aural component. They all were very sensory in different ways."
Their hope was that the experiences would still feel quite intimate even though they were not in-person. Miklas says that What Do You Need? was especially interesting because it was not a translation of a different piece, but rather designed only with the capabilities they had during that time in quarantine. "The constraints in the development process were actually kind of freeing," she says. "We were able to just focus on what's possible within this set of parameters."

In addition to developing What Do You Need?, Capital W also adapted another piece they had produced in-person previously—a live experience of a date gone horribly wrong called Red Flags. As Zoom dating became a necessity during quarantine, Red Flags felt very of-the-moment. Ludwig says she rewrote about 70 percent of the show to adapt it as a virtual first date experience over Zoom.
"It seemed like a no-brainer," she says. "I wanted to create an experience that would feel analogous to the original but examining what this fictional character would be like in this experience. How would she connect with people on Zoom? The piece utilizes the limitations of Zoom and shows how much is possible."
Though Miklas and Ludwig don't typically incorporate technology into their work—Miklas describes their aesthetic as being "much more homespun and analogue"—both have been inspired by seeing how much more accessible they have been able to make their work by using these tools and seeing how much the sense of distance is dissolved by virtual connection.
Ludwig says she did miss the ability to play with touch as a tool, but with the adaptation of Red Flags as a virtual date the limitations were also built-in. "You have to be willing to release a sense of outcome," she says.
Miklas notes that she likes to see form relate to function and projects that are native to the technology that they're using (rather than, say, a straightforward live stream of a stage production). "I'm excited to see other creators attempting to make things that recreate the intimacy of theatre [when being inside of a theater isn't possible]."
Act III: Control Group Productions, CALVACADE!
Other immersive theatre companies have found ways to still have in-person experiences outside of the theatre setting. For Denver's Control Group Productions, going outside wasn't too much of a stretch—they've been doing it for years.
Control Group started 11 years ago as an experimental dance theatre company, but evolved into immersive and experiential dance theatre as they started to do more site-specific work, particularly outdoors.
"We realized we could really do some interesting things with outdoor spaces, and found that to be really fruitful," says founder and artistic director Patrick Mueller.
Control Group had the opportunity to work with New York's Third Rail Projects, probably one of the best-known immersive theatre companies in the world, in 2016, and it was an awakening for Mueller.
"They had names for all the things we had been experimenting with blindly for the last four years, and had a whole training around choreography," he recalls. "They were still experimenting on these things on a deep level, but they had codified a lot of it. It was the first time I'd heard the term 'immersive theatre' and realized there was a field building around it."
For Mueller, immersive theatre feels like "a really potent place for innovation," and in the last several years Control Group has been using this experiential format to explore how the concept and content of a show fuse together. For example, last spring's production, Aggregate Immateriality, was a rumination on fear, darkness, and death held in the basement of an abandoned slaughterhouse.
"It was the most replete fruition of ideas [we've had as a company]," Mueller says. "It had the biggest goals we've taken on yet, and it achieved them."
During that time, they were already deep into concept development for what was going to be this summer's show, their largest endeavor yet. Called The End, it was going to involve piling audience members into a school bus and driving around the city of Denver as if it were the middle of the apocalypse.
"This show has been postponed due to the defictionalization of the subject matter," Mueller jokes, adding that, in addition to the difficulties around social distancing on a school bus, the material just felt like a bit too much for people right now.
"Within a week of going into lockdown we decided this is too apocalyptic for people to engage with right now," he says. "There is some serious and heavy content, so we shelved that show until it feels like it's possible to put people on a bus and touch the same handrails and breathe the same air [and engage in a story about the end of the world]."
At that point came the pressing question: "What now?" After discussing their next steps together as a company—whether or not they should produce anything at all right now, and if so, what that should look—they came up with the idea for CAVALCADE!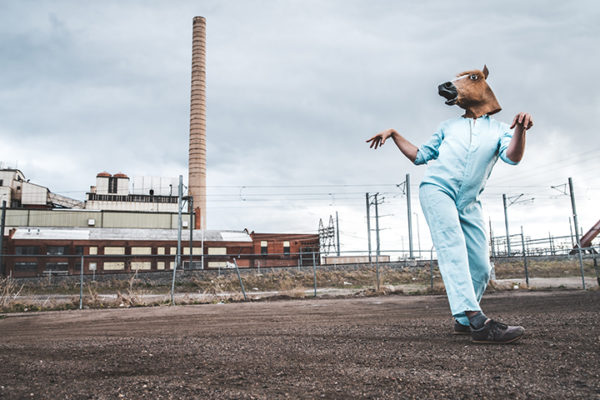 With CAVALCADE!, they wanted to do something that would get people out of their homes while still keeping them safe in accordance with CDC guidelines and ever-shifting state and city ordinances. They decided on a structure that would keep people inside of their cars, and decided to make it a multi-site experience rather than a single drive-in.
They rehearsed on Zoom and had to push back performance dates as stay-at-home orders were extended and group gatherings (for in-person rehearsals) were restricted to groups of 10 or fewer.
"We've been surfing on these shifting policies and shifting health advisories," Mueller says, expressing a frustration felt not just by small theatre companies but businesses of all sizes all throughout the country. "Are infections spreading from common surfaces? Shared air space? What kind of shared air space? We've had to stay flexible enough to react to each new policy mandate."
The show itself was not meant to be the kind of highly produced experienced that takes over a year to plan like the one they cancelled; by its very nature, it couldn't be. This was a show designed as a reaction to this particular moment, created with urgency and existing within all of the confines of the moment.
"Partly this show feels like a compromise of a compromise of a comprise, and at that point we only have 12 percent of a product left," Mueller reflects. "We had a positive, supportive conversation about what perspective is relevant right now. We looked at this less as an aesthetic gift and more as a social gift. It was something people could put on their calendars. It was family-friendly. It was giving people something, even if it was not the polished product that we love to engage our audiences with, and that was still important."
CAVALCADE! was mostly made to be viewed through car windows, save for one scene that used very carefully socially distanced invitations for people to come out of their cars one car at a time. The show was structured as a parade and guests would be invited to wear costumes and give their cars racehorse names. Sound was going to be delivered over an FM channel with an announcer acting like a radio DJ covering a real parade. There were socially distant board games and ways for performers to interact in socially distant ways. The participatory elements, Mueller says, were more "gestural" compared to the work they have been doing, but that was also out of necessity.
"Our main goal was to have a real communal experience of a type that's not possible through a live stream," he says. "The fact of showing up to the same place at same time and bringing people together was a structural goal. It was about finding small joys when big ones aren't available, and not dwelling on the experience of quarantine but working out from that point with more than just coping mechanisms."
Unfortunately, the timing for CAVALCADE! also happened to coincide with the growing national protests and increasing urgency around the Black Lives Matter movement in response to the murders of George Floyd, Breonna Taylor, Rayshard Brooks, and countless others. Control Group ultimately decided to cancel this production, citing the more urgent social issues of the moment taking precedence as well as extraordinary difficulties in site use and permitting.
Mueller says the idea of doing another "makeshift" show isn't terribly appealing; he would rather spend the next 18 months doing a lot of research and "incubating a very rich artistic process." At this point, especially as infection rates are spiking once again and there are numerous unknown variables extending far into 2021, he knows that the next year or more will require a lot of flexibility and adaptability, and he is trying to put together project budgets that take into account higher production and sanitation costs with smaller audiences and lower ticket sales. He's also planning for the worst-case scenario of cyclical citywide shutdowns, considering a series of smaller shows for 2021 that can be outright cancelled if need be without being financially ruinous for the company.
Act IV: Majestic Repertory Theatre, Majestic Drive-Thru Theatre: Decontamination
The Majestic Repertory Theatre in Las Vegas had just premiered their spring immersive production The Garden Party, involving a group of society ladies with some dark secrets, when the national shutdowns began in earnest. Founding artistic director Troy Heard saw the stark reality of the looming threat of this "novel virus," which he had heard about from within his theatre circles around the country as shows were quietly being cancelled as early as January, and when the World Health Organization declared it a pandemic on March 12, he and his co-artistic director Natalie Senecal opted to shut down the show after its first weekend. Five days later, the governor of Nevada shut down the whole state.
"We knew is was going to be a long time before we could pull people into closets again," he says, as the Majestic produces several smaller immersive productions each year in addition to a number of larger stage productions. But as a small nonprofit theatre company that relies on single ticket sales to exist, and nothing to sell tickets to, they had to do something. They played around with broadcasting on Instagram live, but that wasn't bringing in enough money for them to stay afloat. They did have a retail license, however, so they started putting merchandise online.
The idea for the Majestic Drive-Thru Theatre: Decontamination came about as a bit of a protest, Heard says. A lack of clear leadership on reopening along with ever-changing guidelines had led to a lot of frustration. Businesses, such as restaurants and bars, would be given a day's notice that they were allowed to reopen, and then left to rush to figure out exactly how to do so (re-stocking kitchens, re-staffing, and training staff on new safety and sanitation processes takes more than a day). Others were given no indication whatsoever as to when or how they would be allowed to reopen—as a live performance venue, the Majestic is still closed nearly four months later and is still awaiting that guidance.
Heard's wife Kady Heard runs the immersive burlesque-in-a-cocktail bar performance series Tease & Tails, so together they came up with the idea of doing a peep show with curbside retail. "No one said we couldn't do curbside retail with a flair!" Heard says gleefully.
The initial idea was to hold the "peep show" inside the windows of the theatre, but May in Las Vegas is already quite hot, and the west-facing windows were suffocating in the evening triple-digit heat. They moved the show to the back alley behind the theatre and used a gate as a makeshift curtain. Their local performer friends loved the idea and wanted to participate, so, in addition to burlesque performers, they ended up with circus clowns and lap-dancing coronaviruses. Heard and Senecal created a narrative of the back alley as a decontamination zone, which became a commentary on the world we're living in right now—one of social distancing and face masks (one of the items for sale that was offered as part of the Decontamination retail package was a mask that reads "#MajesticAF").

As each car pulled up, Heard and Senecal, both in full HAZMAT suits, asked passengers if they've left the country or been outside the house at all in the last two months.
On the first night of performances, when asked if they had left the house in the last two months, Heard says some of the audience members would just sigh that they hadn't been and seemed overwhelmed with relief just to be doing something.
"It just shows how powerful is it just on some micro level just to be able to engage again," Heard says. "Everything we've been improvising, we've been throwing it together to see what sticks, but the idea to be outside again and feel some normalcy—this is why arts and entertainment are important. I'm a strong believer that all art is political, especially now, but you can get to politics through a bit of enjoyment and escapism; not everything has to be so didactic."
They held Decontamination for three weekends, but had to stop when temperatures broke 110 degrees and parts of downtown Las Vegas reopened, when people visiting the restaurants and bars located near the theatre would cluelessly wander down the alley, an overwhelming number of them not wearing masks.
"We had such an emphasis on distancing, where the performers had to wear masks and people stayed in their cars, and people would just come wandering in," says Heard. He remembers one instance where he—staying in character in his HAZMAT suit—asked a passerby "Sir, this is a decontamination zone, where is your mask?" to which the man responded with, "I don't have to wear one; this is America."
"It negated everything we were doing," he says. "The first weekend was magic because it was still rather quiet out there and the atmosphere was a little bit eerie, as it should be, but by the time we had drunks wandering up and down…and then the protests started."
He says they wouldn't have continued in light of the protests anyway, allowing that physical and social space for the Black Lives Matter movement to exist instead out of deference. "There's a pause on the pause on the pause, and we're taking an additional pause for Black Lives Matter."
There has still been no indication given as to when theatres will be allowed to reopen, but with infections on the rise and Las Vegas's phased reopening now paused, Heard and the Majestic Repertory Theatre remain in the dark. They've rehearsed a one-man show they plan to reopen with that will have a limited audience of just 10 people once they are allowed to do so, Heard says, and they still hope to stage their production of Hedwig and the Angry Inch in the fall.
In the meantime, he has been doing a lot of writing during this time and is considering different channels of storytelling for the future, whether that's professional video of their live productions, creating new video content (he just filmed a short with two actors in the desert called Encore), or creating content specifically intended to be streamed, like an interactive Instagram Live stream that also incorporates phone calls with the actors and drive-up physical locations. "It's about storytelling in every form we can tackle, not just 'putting on plays,'" he says.
If nothing else, this crisis has shown that theatre is about person-to-person engagement, and that doesn't have to occur solely with an audience watching something onstage or in person.
"We can do remote experiences," he says. "It took this crisis to see that these are viable forms. We can tie our storytelling in with remote experiences and we can tie it in with live theatre. Knowing we have those tools in the toolkit is a great thing; it's just a matter of finding the right story."
Curtain Call
One of Heard's biggest concerns for the future is whether or not audiences will feel safe coming back to the theatre even once they're allowed to (and, in a city like Las Vegas that is wholly dependent on its tourism economy, whether or not they'll even be able to afford to).
"Because I'm an immersive creator, I always have the audience in mind," he says. "First, we have to create a world the audience can go through. Now, okay, we're shut down—what does that look like on the other side? What does an audience need to feel safe to come back?"
Miklas and Ludwig express the same concerns.
"I feel like the theatre community right now is feeling scared and not knowing what the future holds. Even as audiences come back, they need to have trust in the idea that things are safe, and they need to feel safe," Ludwig says. "We already needed to have that trust to be physically and emotionally safe, even as we were doing something adventurous or boundary-pushing. I really hope theatre makers don't feel demoralized. I think there is a lot of important art to be made and we still need it. I hope people still connect to that and feel the importance immersive theatre has in this time."
Miklas adds, "From a practical perspective, there's a big difference between the government saying it's safe and people feeling safe going to those spaces. I am hopeful and I see a path for our work that doesn't need to just be going back to exactly how things were in February of this year. I hope more immersive creators approach it with this perspective of, 'What is the new form?' instead of, 'How do we get back to how it was before?'"
Mueller feels that a theatre company like Control Group is in a better position to weather this storm than larger theatres, and immersive theatre in general is nimble enough to respond to and survive this time.
"Immersive theatre is in a much better position to be active during this process and respond creatively versus just putting fires out," he says. "I think that we have a lot of skills within our company and within this field to help other theatre companies that want to think outside the literal box and figure out what is possible during this time."
Heard echoes the idea that a small, independent theatre company's agility is its strength during a time like this: "We can think outside of our little black box theatre. We have the ability to be nimble and create what we need to create to move forward."
Muehleck and Armer express concerns over the ability of smaller independent theatre companies that don't receive a lot of outside funding to rebound, but also agree that there is a sense that small, scrappy theatres will make it through this because they have a greater capacity to pivot.
"Adapt or die, baby; this is the future. We're living in it," Armer says. "Artists are incredibly intelligent, resourceful, resilient creatures. It is our lot to experience life, process it, and spit it back out as art, and that's what's going to keep happening. Artists are just going to find new ways to express their thoughts, ideas, and artistry through different avenues."
Lead image from Majestic Drive-Thru Theatre: Decontamination. Photo by Kyle Donovan.