Artists Respond Q&A: Dr. Nicole Mary Milligan
In 2021 the City of Saint Paul launched the People's Prosperity Guaranteed Income Pilot program, and Springboard for the Arts launched a Guaranteed Income for Artists pilot program to go alongside the City's pilot. To deepen the impact of these pilot programs, the City and Springboard partnered on Artists Respond: People, Place, and Prosperity, a cohort of artists creating public projects that demonstrate the root causes that lead to the need for guaranteed income, and the impact of guaranteed income on families and communities. In these Q&As, hear from the artists about their work!
Dr. Nicole Mary Milligan and her husband Alan Milligan are big Oscar Wilde fans. In Lady Windermere's Fan, the Irish playwright wrote, "We are all in the gutter, but some of us are looking at the stars." To Dr. Milligan, that quote describes an orientation toward beauty and dreams — and that's exactly the attitude she and her husband, the other half of the Milligan Studio, brought to their Artists Respond: People, Place, and Prosperity piece. "Altitude" is a 6' x 6' sculpture of colored glass and aluminum, designed to resemble a flat tightrope walker's parasol. It lives in a second-floor window at the St. Paul YWCA in Cathedral Hill.
Hi, Dr. Milligan! You and your husband Alan have created a sculpture called "Altitude." How does it connect to the People's Prosperity Guaranteed Income pilot?
Money provides "altitude" for people. Being artists, sometimes there's a lot of doing well, and then sometimes, there's a lot of not doing well. When you're not doing well, you feel like everything is out of reach––as Wilde says, you are lying in the gutter looking at the stars.
I have a circus background, and I thought, "Of course — tightrope walkers, they have altitude, and when they have a safety net, then they can do greater things." And suddenly, [there was] the whole idea of making a tightrope walker's parasol to remind us all that we're each other's safety nets. We made the parasol flat, so that you could see through it into the world. It was inspired by the dreams of children.
The mayor's office interviewed the pilot participants and learned that these parents felt that the money gave their family some breathing room to do "normal" things, like going to the State Fair. And because of this, they noticed that their children were, for the first time, able to have a "childhood." These kids could finally have an ice cream cone from a shop or go to an amusement park. They could do simple things, which many of us take for granted. More importantly, the parents said they were all able to sleep at night, and laugh together.
When we heard this, we were moved. I grew up during the riots and my husband grew up in Belfast during The Troubles. Both of our childhoods were marked by dark conflict and stress.  And we so thought, wouldn't it be wonderful if we commissioned Irish composer and master fiddler Danny Diamond to create a composition for our piece inspired by the dreams of laughing children? Danny is also from Belfast, born into a family from both Northern and Southern Ireland. He, too, has an understanding of growing up in difficult circumstances.
For the music, the mayor's office supplied a bit of audio, the laughter of a child on a swing, and Danny incorporated that into his piece. The music is pure joy. It begins with this great laughing child on a swing with his parents. And you could just feel the relief. You could hear the joy. If kids can really feel that there's a safety net beneath them, they can dream the great dreams, the mad dreams, that get us out of COVID; that cure cancer. Dreaming freely and largely, in vivid colors and light.
It took a really long time to gently, kindly, make this gigantic frame, which my husband, being a sculptor, makes. We work together, in that I bring light and color to his sculptural forms. And in this case, he brought a sculptural form to my light and color. It was this ongoing process, where it was made, and then unmade, and remade and refined. And the whole time we kept thinking about the laughter this joyous child and his family.
What interested you in this opportunity to create a project around guaranteed income?
Well, my husband is Irish. We also have a studio in Ireland. My mother's from Senegal, and my father's from Poland. Our assistant Mohamed Mohamed is from South Africa. And so we have a huge mishmash of African/European experience with the idea of guaranteed income. We were all following the Finland experiment about giving people a guaranteed income. When we had heard about this program, and Springboard's project, we thought it was so interesting, and we said, Groovy! Let's apply!
Seriously, though,  it fills us with a great sense of honor that we were able to do this with Springboard, whom we love. Six years ago, Alan came to Minnesota as an International Artist in Residence for Franconia Sculpture Park. While here, I fell in love with Saint Paul again and so we decided to stay and open up a second location for The Milligan Studio in the US.
We had no idea how difficult it would be. If it wasn't for Springboard and their artist "survival" programs, such as free legal advice, health care and small grants, we would have been overwhelmed by it all.  Even though I have lived in Minnesota for many years, Alan and I together were starting over in Trump's America and it was a very difficult time to begin a public art practice. So we thank Springboard always. They made all the difference in our lives, much like the Mayor's program has done for the target families.
How did the cohort experience influence your project?
It was so delightful to talk to other artists. We'd been working through COVID, to create the first art roundabout for the state of South Dakota, which was madness. It was lonely work. So we appreciated the cohort, because we could really chat with them about art, ideas––and ice cream!  We talked a great deal about ice cream that first meeting and it felt like a relief from the sorrow of COVID, as it was a very normal, and funny, thing to do.
I'm curious to learn more about the altitude theme, especially as you talk about having gotten a springboard from Springboard. In the U.S., the dominant narrative about altitude involves bootstrapping, right? You're supposed to pull yourself up. What are some other ways to get altitude?
That "pulling yourself up with your bootstraps" idea — my dad and my mother came to this country with that. But as soon as they arrived, they recognized that it wasn't  really a solo effort. In the immigrant experience I've had, we live in our community, and we all help each other.
The Milligan Studio believes that public art builds community. We mentor first-time offenders, parolees, and high risk youth because everybody deserves a chance to have their voices heard. Working side by side, we create public art together because we want to change the dominant narrative. We want joy to be the dominant narrative. We want to defy gravity with joy.
Learn more about "Altitude" and the Milligan Studio at:
Altitude — The Milligan Studio
The Milligan Studio is the artistic practice of Sculptor Alan Milligan and American Novelist N.M.Kelby (Dr. Nicole Mary Milligan).
www.themilliganstudio.com
Learn more about Artists Respond: People, Place, Prosperity: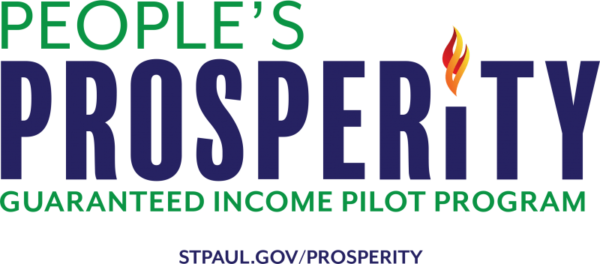 Guaranteed Income Hub - Springboard for the Arts
Artists Respond: People, Place Prosperity is an ongoing partnership with The City of Saint Paul and Springboard for the Arts partnered to support a cohort of Saint Paul artist's projects that tell stories about guaranteed income and its impact on families.
springboardforthearts.org