Artists Respond Q&A: Katey DeCelle
In 2021 the City of Saint Paul launched the People's Prosperity Guaranteed Income Pilot program, and Springboard for the Arts launched a Guaranteed Income for Artists pilot program to go alongside the City's pilot. To deepen the impact of these pilot programs, the City and Springboard partnered on Artists Respond: People, Place, and Prosperity, a cohort of artists creating public projects that demonstrate the root causes that lead to the need for guaranteed income, and the impact of guaranteed income on families and communities. In these Q&As, hear from the artists about their work!
St. Paul storyteller Katey DeCelle believes the People's Prosperity Guaranteed Income Pilot is a big deal. But while interviewing "Samantha and Max," a married couple who participated in the program, she also noticed the little things — for example, the birthday cakes that the family could suddenly afford. In her Artists Respond project, DeCelle shares Samantha and Max's audio story via QR codes on physical postcards. Some of those postcards prompt senders to send their thoughts on paid family and medical leave to Lt. Gov. Peggy Flanagan. DeCelle is hoping all these little things add up to make a big difference in Minnesotans' lives.
Hi, Katey! What is your project, and how does it connect to the People's Prosperity Guaranteed Income pilot?
I designed the cover of physical postcards, with the idea that people will go around to different public spaces — the Rondo Library, Nina's Coffee Café, and the Springboard office — and pick up them up. They have a QR code that links to a produced audio story of an interview with two of the participants in the People's Prosperity Guaranteed Income pilot program. I interviewed a married couple who wish to remain anonymous; I called them Samantha and Max. They are both college-educated, and both had jobs before the pandemic. And they also have a daughter who was born with a heart condition. So there are four kids under the age of five. 
When COVID happened, they didn't want to be out, potentially bringing COVID back to the house, because it would be really detrimental to their daughter's health. So the wife decided to stay at home while her husband looked for work, and the program completely changed their lives. She was able to take a class and learn coding, and the husband is doing various landscaping projects and things. 
Before joining this cohort, I knew about St Paul's People's Prosperity program. And I had this idea in my head of who the participants would be: a bunch of single parents with a bunch of kids. Maybe some of them were college-educated, but most were probably not. This family that I talked to flipped that idea, because you have a married couple who own a house. They're both college graduates. One of them taught at a college. And they can't afford the things that they need. They're not able to get care for their children like they wanted to. And this is supposed to be the ideal, you know, your typical American family, right?
If you listen to the story of Samantha and Max, you'll hear how important this program was for their family, but that it doesn't fix everything. That there needs to be some systemic changes to make life sustainable for families. The program is a start, and it's very helpful, but there needs to be a tipping point to bigger things that will help families in the future, in Minnesota or nationwide.
What interested you in this opportunity to create a project around guaranteed income?
I applied for Springboard's emergency payments for artists when COVID started. I think it's awesome. Especially during COVID — but even before COVID — people need help.
How did the cohort experience influence your project?
Zoom is always weird, right? It would have been cool to meet these other cohort members in person. But it was really cool to see how their projects evolved, and get to know each one of them through their art. When we first met, not everyone knew exactly what they were going to do. Seeing people come up with an idea and watching it progress, it was a really cool experience.
This program is about narrative change. What dominant narrative do you believe your project might counter?
I'd like to change the idea of help as a bad thing. I originally wanted to do five different postcards for five different families, but then nobody wanted to be interviewed. I was pretty shocked at the amount of people who didn't want it to be known that they're in this program.
Most of the people I've told about this program are like, "Oh, it sounds great." But some people are like, "Well, why don't they just get a job? I struggled and worked hard. These people should, too." But if we have resources available to help people, why should anyone have to struggle? And why is it embarrassing? Why is it that help is looked at as a negative?
At one point, I was in that similar position, in the red in my bank account, wondering, "Another overdraft fee?" — where $500 could have really changed something. I think a lot of people who think that this program is a negative thing don't realize the amount of struggles that people have to go through, whether it's medical bills, or transportation. Just normal things that people should be able to afford to live.
Listen to the "Bright Futures" Audio Stories:
Bright Futures Project — Sounds Powerful
Bright Futures Audio Postcards are a visual and audio representation of Saint Paul's People's Prosperity Guaranteed Income Pilot Program.
www.soundspowerful.com
Learn more about Artists Respond: People, Place, Prosperity and Guaranteed Income: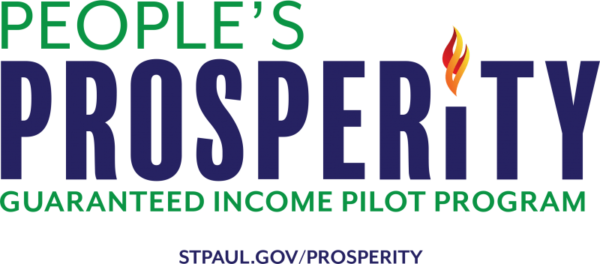 Guaranteed Income Hub - Springboard for the Arts
Artists Respond: People, Place Prosperity is an ongoing partnership with The City of Saint Paul and Springboard for the Arts partnered to support a cohort of Saint Paul artist's projects that tell stories about guaranteed income and its impact on families.
springboardforthearts.org