Write Denver publishes the stories of a city's people
What if, when you walked through your city, you saw words other than "No Parking" and billboard slogans? What if you could look around your neighborhood and read the words of your fellow citizens?
Words like:
Pavement defines city.
I grew up without
parking lots and sidewalks
to keep me on the path,
restrict growth of grass and trees.1
Or:
Something that surprises me here in Denver is Colfax Avenue. When I was in Uganda, I didn't expect to find a place like Colfax in Denver, where homeless people sleep on the street. In Uganda, even when people are poor, they take care of each other.2
Or:
Keep on writing, even in the dark. Especially in darkness — that's when words mean the most.3
That idea of publicly sharing community members' writing was the seed of Write Denver, a program of nonprofit literary arts center Lighthouse Writers Workshop. Now, through Springboard for the Arts' Toolkit Cohort, Write Denver will be packaged as a toolkit that any organization or artist can use to change the way their community is written.
A new idea for Denver
Write Denver was born when writer and artist Tessa Cheek, during a fiction fellowship at Lighthouse in 2014 and 2015, was inspired by programs around the world that display writing on sidewalks and murals and other public installations. She worked with Lighthouse's Dan Manzanares, who now serves as the organization's Community Programs Director, to try the concept in Denver, and began hosting free neighborhood-based writing workshops around town.
"We would give people prompts based on the neighborhood we were in, and go on walks together. We would physically walk these spaces and these neighborhoods," Manzanares recalls of those first workshops.
After attendees wrote pieces inspired by their walks and other neighborhood experiences, they were encouraged to submit their writing to a new website set up for the project. The fledgling Write Denver team began publishing creative writing and workshop photos online.
An opportunity to expand the program came in the form of Art Tank, a grantmaking competition based on the TV show Shark Tank and hosted by the Denver Foundation's Arts Affinity Group. A Lighthouse team including Manzanares, executive director Michael Henry, and Jovan Mays, a poet and educator who had become passionate about Write Denver, made their pitch during 2016's Art Tank.
"We swept it," says Manzanares. Lighthouse won the grand prize, the audience choice award, and an additional grant from the Bonfils-Stanton Foundation, leaving with $36,000 to take Write Denver to the next level.
Writing the city
With funding came the chance to create visual arts installations, making the writing physical and visible. Write Denver partnered with local artists to fabricate experiential pieces like Poetrees, wooden sculptures that can be installed at festivals and conferences. Participants are invited to add their written reflections to the public display, one leaf at a time.
For Word on the Street, Write Denver creates word tiles — similar to the magnetic poetry you might have on your refrigerator — and brings bins of them to local landmarks where people would be gathering. The team will outline a page in chalk and invite passersby to assemble the words into sentences, poems, and stories.
Another public installation consists of 40 mock parking signs on Colfax Avenue, a major Denver corridor. On a stretch between the state capitol building and a nearby high school, these signs appear to show parking rules, but on closer inspection display poems and pieces of short stories and memoirs.
"Now people are writing the city, they're reading the city," Manzanares says.
A community of writers
As Write Denver experimented with creative installations, they were also partnering with local organizations to reach new and specific audiences. The first of these was the Denver Public Library, which invited Write Denver to host writing workshops for Central Library patrons experiencing homelessness and poverty.
Write Denver began working with the Denver Voice, a street publication whose vendor program offers work and income to those experiencing homelessness. Starting in 2016, the Denver Voice publishes a monthly selection of writing from the library workshop series now known as Hard Times. Writers selected are paid $50 for their work.
Once the word got out about Hard Times, Write Denver was hit with a wave of requests for similar sessions — with veterans, with refugees, with incarcerated people, with senior citizens, with people undergoing treatment for cancer. One series is held at The Gathering Place, a day shelter for women, transgender individuals, and families experiencing homelessness.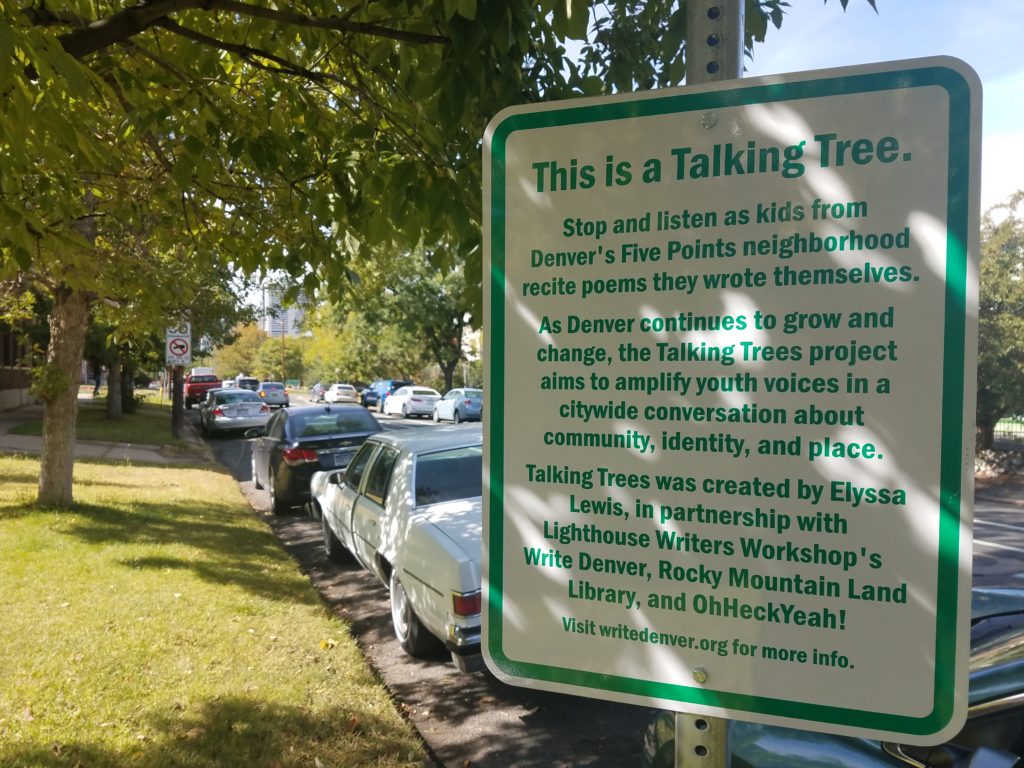 This extensive slate of workshops has turned Write Denver into Lighthouse's primary vehicle for adult outreach. For Joanne Kuemmerlin, a Denver writer who has participated in the Write Age workshops for seniors, the range of that outreach is key to the program's value.
"It would be easy for this type of program to focus on particular economic, educational, age, ethnic groups, etc. Do not give in to that temptation," she wrote in an email. "The goal is to 'paint a city's voices with words' and to have a lot of voices beginning to be heard … especially the ones who haven't been, and are the ones most in need of having this kind of space opened up for them."
Every workshop includes an invitation to submit to the Write Denver website for online publication, plus the chance to be included in projects like the public art installations.
This past spring, the program shared participants' writing in a new way that became one of their biggest successes to date: Voices from the Edge. Write Denver partnered with a local organization called Stories on Stage, which presents live performances of literature. Stories on Stage often features classic pieces by famous writers, and has performed stories by Lighthouse teaching artists, who are also accomplished writers.
This time, Write Denver invited submissions from the outreach workshops to be performed. Sixteen writers from places like the Hard Times library series and The Gathering Place shelter had their work chosen, were paid $75 each, and got to see their work presented by professional actors at the event in April.
"People were coming out of that event saying, 'That was the best Lighthouse reading I've ever seen in my life,'" Manzanares says. "It was a magical evening."
Events like Voices from the Edge have also helped Write Denver participants become part of Lighthouse's wider audience, alongside writers from the more traditional paid workshops.
"Some of the most powerful readings or events I've seen are where the outreach program has big numbers turn up, and the membership base has big numbers turn up, and everybody is treating each other as writers," Manzanares says. "'Big L' Literature is the meeting ground for people gaining empathy for each other despite their background."
Engaging with empathy
Write Denver has become Lighthouse's vehicle not only for outreach, but also for a new level of engagement in civic issues and conversations.
"One of Lighthouse's big overarching missions is empathy, and we've found that storytelling can play a huge role in finding ways where different communities can be bridged," Manzanares says.
He points to one of the most talked-about issues in Denver in recent years, an urban camping ban that has led to greater exclusion and criminalization of homeless people. A viral video showed a police officer taking away someone's blankets on a wintry day because they qualified as "shelter" and were not allowed under the ban.
"We think that if that cop, or if the mayor, or if city council can read enough of these stories, that maybe they would start seeing these people as people," Manzanares says.
As the Write Denver model becomes a toolkit that can be replicated and adapted in other places, Manzanares emphasizes its potential to prompt civic engagement and deepen empathy.
"Once the work gets out and published on the street in whatever way, it sparks conversation, it sparks dialogue," he says.
From "Under My Feet" by Karen Douglass
"What Surprises Me" by Grace Ushindi
From "Keep on Writing" by David Wesley Chapman, published in the Denver Voice