Wesley Fawcett Creigh asks people what makes them feel like they belong
Wesley Fawcett Creigh grew up in rural Vermont in what she describes as a "very homogenous zone." In high school she got excited about the arts, but she couldn't figure out how to apply that to "real life." So right after graduating she moved to Mexico to take part in a coral reef conservation program because she thought she wanted to be a biologist.
"I was this total country bumpkin dropped into this place where I didn't speak any Spanish, and I fell in love with it immediately…but not the biology part of it," she remembers. She did some murals and illustrations for the center that ran the conservation program, then took the next few years to travel before moving to Tucson where her father grew up and she still had some family.
"I had really different mindset and worldview than when I first went down to Mexico. When I moved to Tucson I really quickly got swept up in the immigrant rights movement in 2005-06. The whole movement really gave me historic and political context for a lot of the things I had seen while I was in Mexico. It was that crucial education component for me, and I was really able to piece those things together after I moved to Tucson."
She took classes in Latin American history and politics and Chicano history in the American Southwest, dedicated time as a volunteer organizer and artist for immigrant rights organizations, did creative work for political campaigns to fight against certain legislation, and also did a lot of community organizing that would often lead to creative projects. Her creative output included everything from murals to theatre set design and painting, multimedia installations to animation.
"I was looking at it more as activism than art," Creigh says, "but the arts was the main embodiment of my activism and political views. I found that to be really fulfilling and sustainable for me, so I gradually shifted over to arts and am now focused on my artistic practice as an extension of my activism."
She didn't grow up in a politically polarized place; rural Vermont, being the homogenous place that it is, tends towards a culture that is socially, politically, and economically the same. Creigh has found living in a place like Tucson – where there is a lot of political polarization, social injustice, and human rights crises happening all the time (the nearby border with Mexico is the deadliest region for border crossings) – to be very challenging, but also very energizing.
"Living here and being educated by this place has really informed a lot of what I do and what I choose to focus on," she says.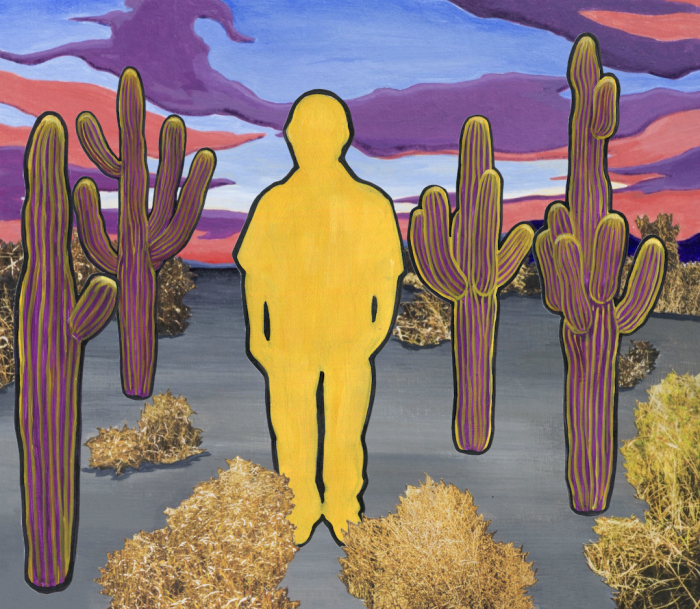 The concept of "place" informs much of Creigh's work. As much as Tucson has inspired her for more than a decade, she has recently returned to a place of childhood inspiration – her family's summer vacation cabin in West Central Minnesota's Otter Tail County – for her most recent work.
Springboard for the Arts hosts the Hinge Arts Residency through its Fergus Falls office, which welcomes artists on two different residency tracks: career development and "homecoming," referring to artists who spent at least part of their childhood in this part of rural Minnesota. Creigh was a Hinge Homecoming artist-in-residence in January 2018; the cabin she spent her childhood summers in is located just 20 minutes from Fergus Falls, and her family's history in the area dates back to the 1890s.
"The deepest roots I have in any place in the country are in Minnesota, even though I only ever go there in the summertime," she says. "I was there last summer and a friend told me about this residency opportunity. Because I feel my family has this connection to this place and this residency could be an opportunity to delve into that, I applied. I wanted to explore the same themes of borders and belonging as I do in Arizona."
Creigh's work in Fergus Falls asks the question, "What makes you feel like you belong, or are connected, to a place?" Literally. She conducted 60 audio interviews asking this question with people predominantly from Pelican Rapids, 20 miles north of Fergus Falls. She chose this town because of its unique social makeup: it has been home to a turkey processing plant since the 1950s, and for nearly as long it has faced a labor shortage at the plant. For decades, rural America has been going through a crisis with people moving to cities and creating a local labor shortage, and in many places immigrant refugee groups have filled those gaps. Pelican Rapids is one such city.
Since the plant opened, different groups of workers from all over the world have moved to this rural Minnesotan town to work there: first Latinos, then Cambodian, Vietnamese, Bosnian, and Somali refugees. As a result, this tiny rural town is now home to very different cultural and ethnic groups from all over the world. Now there are halal markets, mosques, and Mexican grocers dotted amongst the grain silos and barns.
"There is this really fascinating dynamic there," she explains. "The community has a long history and reputation of really stepping up to the challenge of having an influx of so many different new groups of people coming with backgrounds of trauma. They have a lack of resources and language skill and are coming from countries at war. The community has an interesting history of making sure everyone's needs get met, including those who maybe aren't even newcomers. This goes back generations. They even started a multicultural committee to make sure everyone's needs are met."
Creigh outlines some of the acts she observed community members participating in to further this goal: every day in the library there are free English as a Second Language (ESL) classes. One woman reserved her whole garage for receiving donations for families that are new to town; now it's the first stop people make when they move there. A committee member asks what clothes and furniture they need then takes them there so they can take what they need for free.
"The people here are really taking it on themselves to make their community stronger and more civil," Creigh states. "It's interesting to see how this community has been stepping up over the decades. Their mindset, for the most part community-wide, is, 'How do we make this change as smooth as possible for everyone?' It's a really proactive approach."
Her Hinge Arts residency work was focused on this town and the community there, and how residents view their connection to the place.
After conducting the interviews, Creigh used portions of the interviews in a video piece for which she also created additional imagery. She also created a collaborative installation piece with some of the ESL classes in Pelican Rapids, working with high school students to make shadow boxes filled with three things they felt are important to their sense of home. She put them all together in an installation piece that was a wall of shadow boxes and had the students present on what they chose and why.
This installation will be on display starting June 15 at the Otter Tail County Historical Society's Museum as part of Creigh's exhibit, The Friendship Committee. Visitors will be able listen to Creigh's audio edit of the students' description of their shadow boxes through headphones.
Her upcoming show features a lot of multimedia projects, including the video and installation pieces described above. Another project that came out of her work in Pelican Rapids is a series of 2D felt paintings that examine the area's unique aesthetic: a merger of old agricultural infrastructure with these new multicultural visual influences (such as the mosques and Mexican grocers).
Creigh also created a few multimedia pieces in Fergus Falls, working in collaboration with A Place 2 Belong, a social club for people with persistent or chronic mental health issues. She led art-based workshops, conducted interviews (which she also turned into another video), facilitated a collaborative sculpture project, and had people there make their own shadow boxes representing their sense of home and belonging.
"Through these projects I've been fulfilling my larger goal of feeling like I was deepening my sense of place in that corner of the world," Creigh says. "It was so amazing to meet so many people in such a short amount of time. I feel like I have so many more friends and such a larger community than I did before. I feel like I really boosted my sense of place and belonging."
The Friendship Committee will be on display at the museum through July 14.

(1) How do you like to collaborate?
I really like it. I've done a lot of work in theatre over the years as a place to build my skill set but also make money, and that's such a hugely collaborative process. I've also done a ton of community-based collaborative projects that I might have designed myself or someone else designed and I co-facilitated. Collaboration is challenging, but the end result is always more interesting than it could have been without that component.
(2) How do you a start a project?
Going back to collaboration, it usually starts with me sitting down with someone, writing an email or making a call to talk through the project or idea. Something I really value is getting other people's input, especially when tackling really intense subjects, as some of my work tends to do. If I feel like someone knows more about a subject that I want to delve into than I do, then I want to speak to him or her right away.
(3) How do you talk about your value?
As an artist who engages in social practice, the way I justify that is that it's important to be contributing to the larger discourse. If there is a faction of people who aren't okay with the current status quo, it's really important that there is a record of that discontent of that group or perspective or point of view. With a lot of what I do, I see myself as someone who is keeping a record of marginalized groups or perspectives or stories, and I feel that's really important for social progress.
(4) How do you define success?
I look at all of these projects as personal challenges. I go into it knowing it's probably going to end up different than I visualized from the onset, but as long as I carry out the plan, even if it turned out different or I got different answers than I was expecting, if I had my plan and enacted it then it was successful. I just feel successful knowing that I had this plan, set out this challenge, and did it to the best of my ability. That feels successful to me.
(5) How do you fund your work?
I've been really fortunate with state level funding in Arizona. I have been awarded a few grants, and received some national funding too. That has really made the difference between carrying out and not carrying out a project. For example, when I got into animation I needed a new laptop and computer program to do it, and I was able to get those with a state grant. That's been very helpful, but it's not something you can count on. I've worked through a combination of self-funding, institutional support, and other opportunities, like residency opportunities where you're awarded a space just to be and think. Something like that is so helpful and not something I could fund on my own. There have been all kinds of support that has helped along the way, not purely financial.