Rufus Jupiter: The Movement of Rural Regeneration
The Rural Regenerator Fellowship brings together individual artists, makers, and culture bearers, grassroots organizers, community development workers, public sector workers and other rural change-makers who are committed to advancing the role of art, culture and creativity in rural development and community building. Recently, we asked a collective of local writers to sit down with current Rural Regenerator cohort members to share more about their work.
Amidst introducing ourselves to each other as our phones struggled to ping the rural cell towers, Rufus Jupiter pauses and says, "Sorry, I'm waiting for this skid steer to pass." As the machinery passes by they say, "oh, it's a Bobcat," and we both laugh about the rural sensibilities to correctly identify and name the machinery sounds of our rural existences. Rufus knows their way around the tools that dig and move dirt. They use their hands to cultivate and nurture the earth as a flower farmer, make visual art, and accentuate somatic movement performances in rural places.
Rufus ties theses artistic practices together to build community in Viroqua, Wisconsin. Their aim — to one day create and share a rural sanctuary filled with flowers inspiring beauty and healing for queer folk.
Art and Ecology
Rufus is a deeply thoughtful artist whose interest in ecology expands beyond their knowledge of how to bring flowers from seed to blooming gifts. The evolution of their artistic practice is an ecosystem that informs each part of their practice. Whether it be through two dimensional visual arts like painting, drawing and printmaking or their performance work, Rufus retains a deep interest in the relationships between humans and nature. In their 2D work, Rufus melds human, animal and plant figures as kindred. In effect, Rufus models how to live in queer community with the earth, flowers, people and bugs.
No longer confined to paper or canvas substrates, Rufus began bringing the movements of their farming actions into their performance-based work as another form of integration with the land and all of its inhabitants. When Rufus began flower farming three years ago, the process opened them up to exploring the different motions they enact while cultivating the land. In their solo practice they want to explore how subtle they can get the movements that may be considered pedestrian to see at which point they shift into art. Rufus plays with queering movement — at what point does the movement become unnoticeable? Or in the opposite direction, at what point does the movement become so large it is recognizable and/or acknowledged by another being? Moving with the earth and moving in the world is about centering Rufus's pleasure of movement and their way of exploring queer joy.
Rufus also explore their queer joy as one of the co-founding members of the WEdances Movement Collaborative. The project described by Rufus and their coconspirators— Mandy Herrick, and AnnaJo Doerr — is about "inviting embodied relationships with our internal and external wilderness." This trio has been advancing movement-based performances in site-specific relationship since the beginning of the COVID-19 pandemic. Born out of the lockdowns of 2020, the Trio noted the energies of isolation weighing heavily on each of the members, but also their community at large. They started organizing online about what would a movement practice could look like while retaining as much safety as possible, i.e. socially distancing, masking, and inhabiting an open space. Out of these conversations they launched the Parking Lot Project where once a week the WEdances Movement Collaborative took to a Viroqua main street parking lot typically home to the local technical college and Farmer's Market, but to which they now found empty. What they learned is that through routinely inhabiting this space, the space itself became another character in the performance.
Wedances Movement Collaborative
The WEdances Movement Collaborative started as the three members dreamed up a way to use movement more purposefully in the 2020 era of COVID. However, it was only after they stopped their weekly gatherings that had gone on for the months the parking lot was available, that they heard about what an impact the performances had on others. Rufus learned that walkers would time their outings to happen upon the performance, people would park their cars to watch, while others who lived nearby would look out their apartment windows to catch the show. The improvised movements in this space brought more connection than just between the three members of the collective and the parking lot, at a time when folks were really hungry fo human connection, art, and novelty.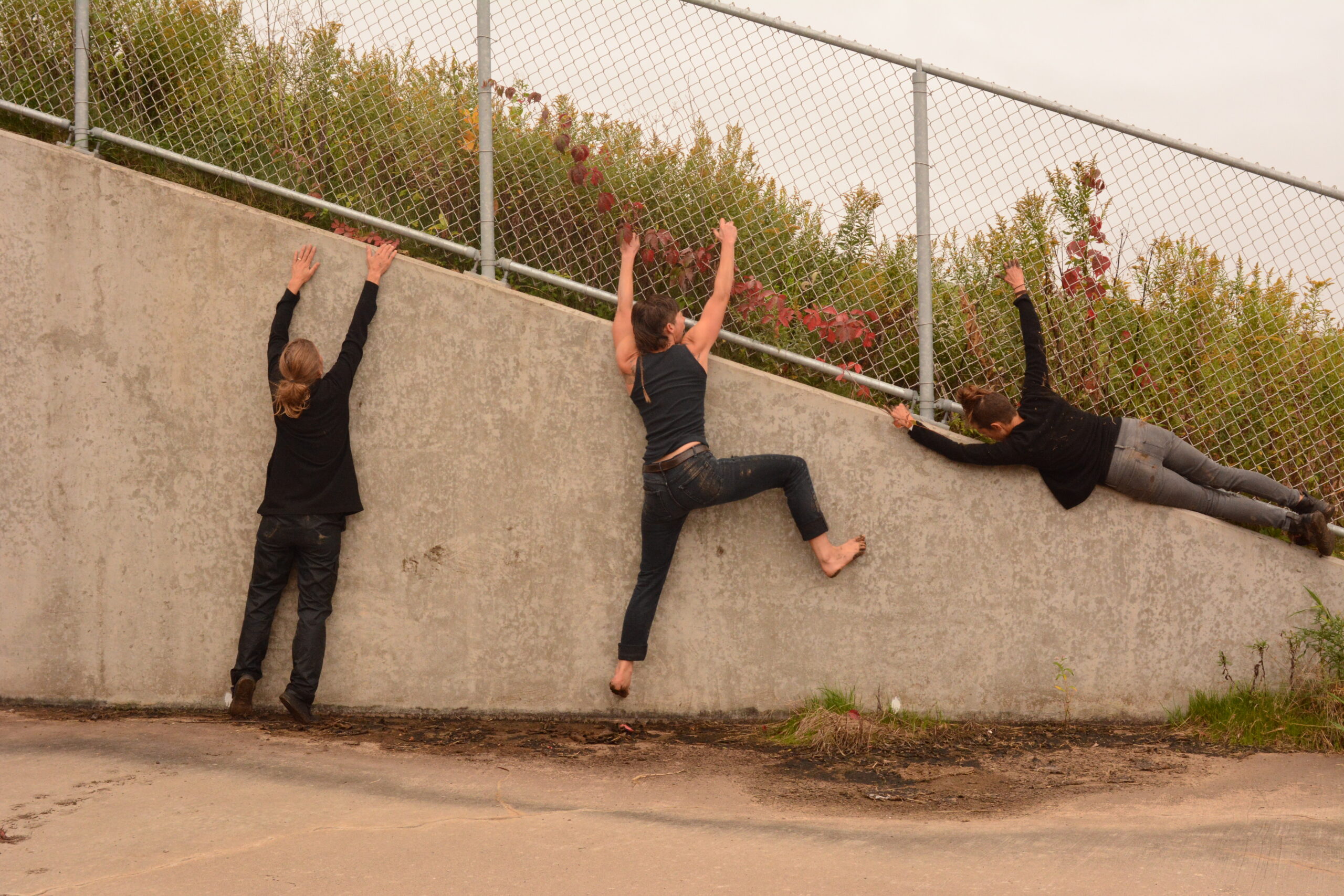 As a rural dwelling person finding a queer bubble to be in community with has been a "saving grace" for Rufus. When Rufus moved to the area in 2008, they really had to work hard to find community, asking people they trusted, "where are the queer people?" Rufus admits they had to dig to find them. But digging is a passion of Rufus's and they have found the community they
sought. As part of their commitment to digging, they are currently working with the Vernon County Historical Society to expand the narrative of the area to include the positive contributions and history of queer and transgender people. Rufus shares, "Being a recipient of this amazing fellowship opportunity has helped me deepen into some community projects, or community networks I was previously connected to, but now I'm seeing as a renewed investment — a renewed purpose in doing that." They continue, "It's moved me to look at the established rural narrative of who belongs and who doesn't and work toward shifting for people whose
experiences are left out of that narrative." Whether through their individual or collaborative projects Rufus is doing just that simply by working, organizing, and bringing to light the ecosystem they're cultivating as an artist.
Rural Regeneration
As a self-proclaimed person "of one million interests that are really important to me," Rufus knows that there is magic in following the spark even through difficult times. The political climate is a challenge, they share it is, "horrifying on so many levels. It's not just queer stuff but the continual oppression of certain groups of people in this country and all the systemic harm that is persisting that's horrifying, exhausting, so deeply difficult." For Rufus, rural regeneration is about hope. "I just have to keep working and hoping that one day, the work will bear fruit."
Rufus's work as a visual and movement artist embodies the stages of a flower's growth. The hope they have for the future is analogy for the hope they plant in the ground in the form of seeds with a dream of one day blooming after patient caring and tending. Whether we see Rufus as a part of this ecosystem embodying the qualities of plant, bug, or human most consistently will only be revealed in the next harvest, and the one after that. And shouldn't we all be so lucky to know that Rufus is out there tending to the beetles and the soil with the same care as they bring their flowers. For once they're past their bloom, their beauty continues to live on in the form of flower crowns, or in the intangible experience shared in this moment, in this time, with the beauty that Rufus helps bring into this world for purposeful healing of their queer family for all our benefits.
About the Author
Kandace Creel Falcón, Ph.D. (she/her/they/their) is an interdisciplinary feminist scholar, writer, and visual artist. Their life's passion grounds the power of narrative for social transformation. Learn more about Kandace's writing and work at www.kjcfalcon.com.
Continue Reading