Ian Trask transforms one man's trash into another's treasure
Ian Trask didn't study art in school. Instead, he studied science, with the intention of pursuing a career in research and being able to "pursue something novel and new every day for the rest of my life." But after a couple of years doing research work in Boston and Salt Lake City he got a bit jaded.
"My feelings on it were romantic before I got into it, then I realized how much writing and politics were involved in maintaining a successful research lab which made me less interested in it," he says.
While in school at Bowdoin College, he has picked up the habit of taking forms and spoons from the dining halls and bending them into sculptures. He kept this practice up after college, going to Goodwill stores and buying forks and spoons to sculpt while he was working in labs.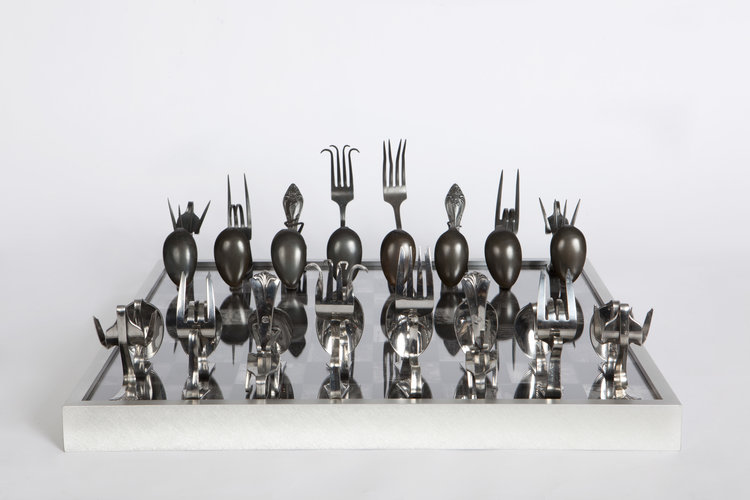 "I found myself at a point where it would hit 5pm and I just wanted to go home and do something else," he says. "I was really enjoying how [the sculpting] made me feel creatively. I hit a crossroads and knew if I wanted to continue to do science I would have to dedicate myself to it. You live in the lab. You live for your results because your money depends on what you find through your research to fund more research. I wasn't willing to give up this other side of me that was peeking out."
He didn't want to continue going through the motions and end up regretting it, so he chose to leave science and enter the art world. But the next step, he says, was a total mystery: how do you enter into the art world without the money or the education or the network or the resources to approach it?
Trask was living in Utah but had friends in Brooklyn and determined New York would be a much better environment to attempt an art career than Utah. But first he needed to get together enough money to move there – New York isn't cheap, after all – so he moved back home to Massachusetts and got a job as a groundskeeper at a hospital for a few months to save some money.
As it turned out, a large part of the job was picking up garbage – cigarette butts in front of the entrance (not without irony), empty cups, and all other manners of thoughtlessly discarded trash.
"Every day there's this new landscape of garbage in the parking lots," says Trask. "It was incredibly frustrating, and it was confusing. Why do people feel so disconnected from these objects that once had importance in their lives and how do they justify throwing it on the ground? That lit a fire in me. It was a source of artistic inspiration, a burning desire or a burning frustration, but it informed how I could approach my own art-making – if I can't afford to buy materials, I can find materials."
For many years, he says, his studio practice was connected to whatever his job was and the waste products associated with it. In New York he worked as a framer for an art gallery, where there was a lot of residual fine art waste from the frame packaging to bits of leftover matting and framing materials.
"I developed a habit of [using these waste materials] and people began to relate me to that," he explains. "It just sort of snowballed over the years. Now I get all kinds of interesting objects from people and that helps me connect with people and how people think. It's a feedback loop of new material."
The range of materials Trask has used is vast. While he had a studio at the Invisible Dog Art Center, a factory where the "invisible dog" toy was once manufactured, he was able to utilize the leftover inventory of materials used to produce the toys (colorful elastic belts and other varieties of textiles). While working as a framer he did a lot of large cardboard indoor installation pieces, and was also inspired to do a piece with blister packs – pre-formed plastic packaging that is frequently used to safely wrap items for shipping.
"There is some innate beauty in the packaging itself," he says. "You get the thing then you throw the packaging in the trash. It's often overlooked."
And so the idea for the massive installation Blister Pact began to germinate. Trask knew what he wanted to do with it, but had no idea how he would collect enough of the packaging material and have enough time and manpower to stitch it all together to fully realize his vision. Then Invisible Dog approached him about doing a solo show, and really wanted him to do something that pushed him creatively.
"I knew to do something in Invisible Dog it needed to have a large enough scale to have an impact in that architecture," he says. "It was important to have an idea of how I could source material by tapping into the existing waste stream in or around me and use those materials to build what I wanted to build. I knew there's a ton of these packages circulating in every community, but how easy would it be to collect and store them in the time I had to get as much as I needed to do what I needed to do? It was a huge gamble, but they said yes and I thought, 'Oh shit, now I have to deliver this thing."
He started with the few hundred people he already had in his newsletter network and asked them if they had any suggestions of how he could source this blister pack material – itself a challenge to explain, as everyone seems to have their own name or description for this particular material and weren't necessarily familiar with the term "blister pack," despite the material's ubiquity.
"It's designed to be invisible. It's designed to be forgotten. So getting people to see this invisible thing and put a label to it [was one challenge]."
Trask decided the piece was going to be 16'x16'x14′, a decision that had to be made early on so he could work on his design and know how much of the packing material he needed to collect, and despite his initial panic – how was he going to collect thousands of these packages from busy New Yorkers and store them in his tiny studio? – he was able to collect (and find a place to store) all that he needed. Through a well-time residency at Pioneer Works (which gave him the space to store the materials and stitch them together) and a successful Kickstarter campaign, Trask was able to complete the ambitious community-driven, largely crowd-sourced project.
"I probably ended up losing money on the whole thing still, but the whole point was to learn more about myself and work with the community," he says. "Part of my inspiration comes from sourcing of material from other people."
Trask is currently working on a project called "Strange Histories," using old 35-millimeter slides that were donated to him to create surreal images through layered juxtaposition.
"One of the galleries I was working with sent me an email from a family that had thousands of slides they wanted to donate to an artist," Trask explains. "It is such an amazing treasure trove of material."
The collection consists of thousands of family slides from the 1950s through the '80s, and Trask has been working on it for a few years now. He looks at every single one and chooses those that have enough transparency to them, then sandwiches two slides together to create surreal images of dissimilar scenes juxtaposed against one another, "like an analog Photoshop process." He doesn't manipulate any of the images; instead, he just finds ones he likes and sandwiches them together.
"Some are really funny, some are poignant, some are political, some are critical," he says. He has displayed them in vintage slide viewers he found on eBay. "It was so interesting to see how people respond to these images and to hear their interpretations, because they really are open to interpretation. I see something in them but when I hear someone else describe them I think, 'There's something here; there's another step I can take with these."
He has also collaborated with other people – creative writers and collectors of his work who own some of these images – to create stories to pair with some of these images. One of these story pairings, called "A Prayer for Democracy," was recently displayed at a group show at Ground Floor Gallery in New York called "Marked Urgent" – a show that directly addressed issues of the First Amendment and the current administration's preoccupation with "fake news."
Trask plans on eventually creating a book filled with these story and image pairings, but for now he is focused on living in Maine and no longer being a "New York artist," rebuilding a connection to the community in order to source more material and inspiration.

(1) How do you like to collaborate?
I enjoy doing the work myself. A lot of the collaboration comes from people donating the work to me in my studio practice. Their donations of unique and interesting materials is sort of the jumpstart of collaboration.
(2) How do you a start a project?
One fun way is cleaning up and reorganizing a messy space. In cleaning up a messy space you discover things that have been buried. By seeing old things next to new things, that physical juxtaposition of space leads to new ways of seeing my work.
(3) How do you talk about your value?
What's most interesting in my work and how people respond to it is that it just makes them see their own environment – how they live in in their environment and the objects in their environment. It makes them see things differently. The realigning of themselves and their environment [is interesting to me].
(4) How do you define success?
Success is me creating a finished project that is in line with my original goal from when I set out; getting a positive response is more like icing. Personal growth is the most satisfying, and the feeling of moving forward and growing and learning.
(5) How do you fund your work?
The best way to fund it is to not spend a lot on it; that's step one. Step two is try to sell my work to key supportive collectors. When it needs be done there's Kickstarter to lean into my network and ask for help. Sometimes [as an artist] you need to ask for help.