Jaclyn Roessel is Grownup Navajo
For nearly a year now, members of the Standing Rock tribe located in North Dakota along with other supporters of environmental protection have protested the construction of the Dakota Access Pipeline, an oil pipeline that protesters believe to be a threat to the region's clean water as well as a desecration of sacred burial grounds on native lands. Over time, thousands of people joined the protest camp, oftentimes facing arrests, water cannons, tear gas, and rubber bullets. Tens of thousands more showed solidarity through social media, but for those who couldn't be there in person – braving the harsh weather conditions and sleeping in freezing temperatures overnight as winter set in – there was also a sense of sinking futility. After all, what can really be done to support this movement if you can't actually physically be there?
Plenty, says Jaclyn Roessel, the artist and community activist behind Grownup Navajo, which held a few prayer circles in December and January in support of Standing Rock.
"One of the principles of Grownup Navajo is that we have the ability, from wherever we are, to make a change in that place," she says. "You don't have to be in that place or say, 'When I get there I am going to do something to help my people.' You can help from wherever you are."
Roessel says that prayer circles are about "moving together." She collaborated with a group of non-Native yogi women to further engage a wider audience.
"Their business is about the accessibility of yoga. They are not Native, and I love that we are partnering for that reason," she says. "A guiding principle of Grownup Navajo is that we are all responsible for each other, that [our shared] energy moves us to incite that atmosphere of agency but also to create a very conscious and purpose-driven community. Really, as any people from any community, to challenge ourselves every day to not rest in the knowledge we have."
Roessel grew up the daughter of a photographer and a lifelong educator. She studied studio art at Arizona State University and decided she wanted to follow in her father's footsteps by working at the Heard Museum. A college internship at the Heard started an 11-year museum career, which ultimatly led Roessel to the position of Director of Education and Public Programs Department for the museum, a position she only just left in January in order to focus full time on Grownup Navajo.
"In the past four years I've really began to call my practice a 'practice,' one of culture and art producing and writing from the standpoint of wanting to share narratives from perspectives that people don't hear," she explains. "Native Americans make up two percent of the population. While we have been and are the original people who lived on this land, people really don't have a very steady base of who Native American people are. I saw that firsthand in the museum world, seeing the ways to break down barriers through cross-cultural education showing how we're connected to each other, and not just how we're connected but also what makes us [Native peoples] unique."
Grownup Navajo is a project that stemmed from terrible grief. Five years ago, Roessel lost her paternal grandmother, the woman she considered to be the "touchstone" to her culture and traditional practices.
"It was very sudden. I was devastated," she says. "I really spent my entire life learning what are the roles and stories we as Navajo women have to carry through her. We would talk always about this. When she was gone I felt this tremendous piece of me was lost. I thought, 'How am I going to do this? How do I move forward?' And I remembered we would talk about ideas and she would smile – she had this amazing smile, these beautiful cheekbones – and say, 'Don't talk about it. Just do it.' She would always say, 'You know what to do.' She would stop and smile – there was always a smile – then rise to the challenge. There was this moment [that I realized what I needed to do]."
Grownup Navajo relates back to Roessel's identity as a Navajo woman, beginning as a very personal reflection of this time in her life marked by such profound grief.
"The blog became my reflections of how to carry on these teachings and hold this knowledge in the modern world," she explains. "Now I really see it as lifting up narratives of a people."
The website is now a place for Roessel's creative output and a conduit for her creative engagement, where she collaborates with other artists, makers, and social practitioners on a variety of projects and events. She writes and performs empowering poetry; collaborates with fashion designers, yogis, musicians, 'zine publishers, and podcast producers; and is currently focused on how she is going to grow Grownup Navajo from here – after all, it has only been her full-time focus for a few weeks now.
"A lot of what I feel I do now is really trying to raise awareness around Native American issues using creativity," she says. "At this point Grownup Navajo is interested in exploring the core values of Navajo traditions and teachings and making them relational to other Navajo people and anyone who is non-Navajo to see relationship in their own lives. The Grownup Navajo movement is to be that for many different people."
That includes responding to events that occur in the First Nations lands, like Standing Rock.
"Really the drive [for me to focus full-time on Grownup Navajo is] how critical this period of time in history is, both within Native communities and in our larger society," says Roessel. "There needs to be more people encouraging community action and I needed to be able to use all of me in a way that I get to choose. I was so fortunate to have my first job out of college be my dream job that nurtured my creativity and gave me a lot of tactile skills, but I felt like I was really being called to own all of the different parts of me with all of the things going on in the world right now. I can do a lot more and help my people more if I'm able to invest in this more fully. There is so much more I can give, and I'm ready."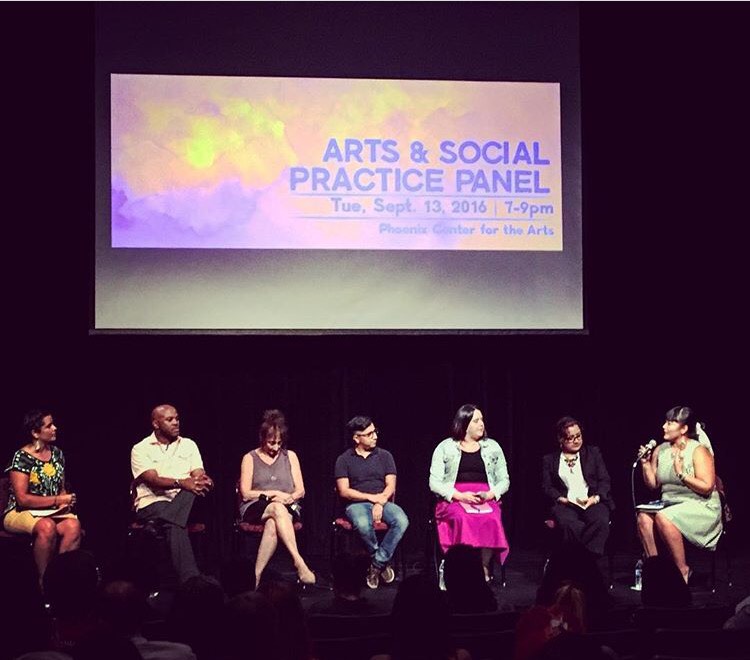 Roessel has since relocated to New Mexico. Earlier this month she collaborated on a fashion event with Beyond Buckskin and OXDX that focused on protection and resistance awareness.
"Style is an important expression of who Native people are," she says. "The way we communicate with our style and dress is very much an act of assessing our place in this world. Even until very recent times our ability to wear traditional clothes wasn't allowed."
Though, she jokes, "I love my moccasins as much as I love my red patent leather heels."
She also recently collaborated on another movement event with Rezilience and Well for Culture, and will partner with Rezilience again in late April at the two-day Rezilience Indigenous Arts Experience festival on an art installation that will use her poetry and imagery in a large-scale 3D puzzle.
"Another vein of my work is about visual storytelling and place," Roessel explains. Another upcoming project in collaboration with AZ Humanities will explore space, movement, and poetry through a mobile poetry workshop that will move around to different places in the Arizona desert via the light rail.
"What moves Grownup Navajo is literally movement – movement through the world," says Roessel. "I love what we can learn when we're in movement, when we're mindful and intentional in the way we explore our space and our relation to the land and the changes we experience while we're in movement."
While there is much she still has to define in terms of where she wants to take Grownup Navajo from here, Roessel sees so limits to what she can do with it. "My tether is just my identity as a modern Navajo woman and the way I explore that and am inspired by it," she says. "That is what drives Grownup Navajo."
Lead photo of Jaclyn M. Roessel by Hannah Manuelito.

(1) How do you like to collaborate?
I love to collaborate with giving people. It doesn't matter from what background, whether it's very small help with an event to larger project, like "Can I build a big puzzle at your event?" I'm just really open to collaborating with giving people.
(2) How do you a start a project?
I carry several different notebooks with me all the time and have lots of post-it notes so there are always scribbles of things I absolutely adore, and then I always have a question so I always begin a project with a question that am I trying to answer and asking what am I trying to find out.
(3) How do you talk about your value?
This is a new question that I am beginning to be challenged with answering. I think that for me, how I've been open to this idea is really understanding that my voice is really one that is not found easily in society. Being a young Native woman, representing these kinds of rarities, I know there is a need for people like me to have this opportunity to open the door to this perspective. That really is the value of recognizing that there is just not enough of the people who I call family that are seen in the larger context of the community.
(4) How do you define success?
I always feel I've hit a mark of success when someone comments on a blog post or I get a text from a friend after an event we've had saying, "I'm still thinking about this" and I love that. I love that if my work can be the process of the start of appreciative inquiry in a person's life then I know I am successful, because I'm taking my entire life to explore these things.
(5) How do you fund your work?
It's really a confluence of projects being self-funded and the collaborative requests from other people so that then I'm a part of their project and their funding.